Nikki's Tennis Crew Junior Program is a fun place for kids to work on their tennis skills. Classes are offered at various times and skill levels throughout the week. The flexible program is designed to allow for your child's busy schedule. Your schedule can vary from week to week according to other commitments. Nikki's Tennis Crew Junior Program is designed for your children to learn tennis in a fun supportive group. The staff is energetic and they love teaching tennis. We not only focus on tennis skills but your child learns the importance of team work and great sportsmanship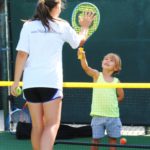 Peanuts is a thirty minute fun intro class to tennis for 3-4 year olds. The juniors learn the basic shots and athletic coordination skills. My goal is for them to know the difference between a backhand and a forehand, a volley, ground stroke, an overhead and improve physical skills. The juniors will stay on the same court throughout the class. Class structure can vary but a basic class can be: first 5 minutes is a warm-up where we stretch and do a little running/coordination skills, the next 10 minutes they will work on volleys and ground strokes. Some classes might be just athletic coordination skills catching/throwing and movement. Those who listen well and do their best will great a prize. Red balls are used for this class.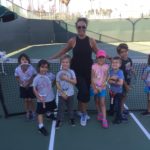 Junior Star's class is an hour class for 5-7 year olds where the juniors learn more of the strokes, coordination and athletic skills. The serve is introduced as well as scoring. Fun games are played to work on the different shots. This class is for total beginners as well as players who have some experience. The students start learning how to rally and keep the ball in play. Good technique is reinforced as well as good footwork. Players get a solid foundation to for a great tennis future. Red and orange balls are used for this class.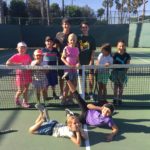 Junior Clinic is a 90 minute class for 7-11 year olds that builds on the Junior Stars class. We continue works on all the basics. Beginners are welcome to this class. Doubles and formal Match play is introduced along with match strategies. Many of these students eventually join our entry level USTA junior teams. This class is for the juniors who have a really good attention span. This class is broken into working on basic techniques, good footwork habits and stroke production. The last part of class the juniors work on match skills and then finish with a fun game. Orange and green dot balls are used for this class.
Junior Touring Pros is for students who knows the basics and are ready for match play. This class works on all aspects of tennis as well as conditioning. The length of this class varies depending on if it is during the school year 90 minutes or summer 120-150 minutes. The class starts with a warm-up and some conditioning. The first hour they will cover the basics with drills. We then cover specialty shots and doubles play. Some kids will be put on their own court to play individual matches. The last 10 to 15 minutes a huge group game will be played with all the students on one court. Green dot and yellow balls are used for this class.
Junior Team Tennis is an extension of Junior Touring Pros. Team tennis is a weekend recreational tennis program for juniors who are beginners to highly competitive players who are trying to gain more match experience. Juniors are matched with other players of same ability to form a team in one of three levels- Ralleyball (novice), Intermediate and Advanced. Matches will be played throughout the San Fernando Valley. For more information about Junior Team Tennis click here…